Designed for Fiber Optic Technicians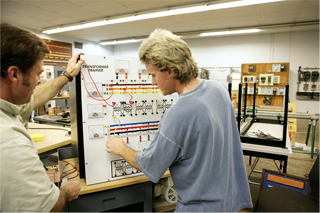 This Accredited and Certificated Fiber Optics Technician Course (CFOT®) is designed for anyone interested in becoming a Fiber Optics Technician or who needs to understand or use Fiber Technology within their job. This program combines both theory and practical exercises with at least 75% hands-on activities. This course introduces the student to industry standards governing FTTD (Fiber To The Desk), FTTH (Fiber To The Home, LAN/WAN fiber networks and further introduces the student to Practical Fusion and Mechanical Splicing.

CFOT® Fiber Optics Technician Course Overview
Our mission is to provide our students with the hands-on knowledge and the ability to identify fiber types, recognize various connectors used in fiber installation; and install, terminate, splice and properly fault test installed fiber cable to existing standards. This program explores the history and future of Fiber Optics and Fiber Optics Capabilities and cost of installation.
Competencies Gained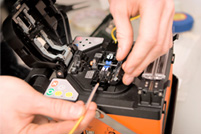 Using our quality Fusion Splicing Machines and other professional tools such as OTDR, students will prove their competence in the following:
Understand the history and operation of Fiber Optics
Terminate a variety of connectors
Perform Fusion Splicing and Mechanical Splicing
Perform cable preparation for Fusion and Mechanical Splicing
Assemble a Splice enclosure
Fully test and troubleshoot Fiber Optic cables and Fiber Optic Systems using an Optical Time Domain Reflectometer (OTDR).
Why Choose SubNet Services
SubNet Are Members of The Fiber Optics Association
SubNet use Task Based Competence Training
SubNet Issue FOA Certification to Competent Delegates
Easy to Get to Training Location in Manila Asia (budget airlines)
OR - We can come to your World Location with our Training Pack
Cost and Time Effective for Business
We also Supply Experienced Fiber Optic Technicians World Wide
We Have trained Technicians for Major Clients in Europe-MidEast – Far East – Americas and Asia/Australasia
Who Should Attend The Course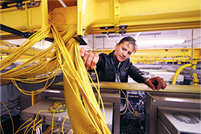 Anyone who is to be employed in design, configuration, installation, testing, troubleshooting, or Fiber Optic system maintenance: technicians, System Analysts, Design Engineers, Managers, Telecommunication Professionals, Electronics Technicians, Electrical and Mechanical Technicians, Marine Electronics Technicians, Oilfield Technicians, ROV Technicians etc.
Certifications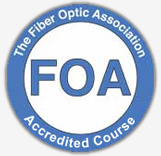 A SubNet Certificate of Attendance is issued as standard and SubNet can (recommended) give the student the FOA (The Fiber Optic Association) certification exam immediately after the course ends and certification issued for the standard fee
CFOT® Fiber Optics Technician Course Syllabus
Day 1
Introduction to Fiber Optics
History and Future of Fiber Optics Networking
Fiber To the Desk
Fiber To The Home
Fiber Optics Networking
Fiber Optics Safety
Hands-on Session Begins
Day 2
Fiber Optics Networking Standards
FOA-CFOT, BICSI and RCDD Certification
Fiber Optics Cable and Connector Identification
Outside Plant Cable Introduction.
Hands-on Session Continues – Termination of Fiber Connector, Splicing (Mechanical & Fusion), Design & Installation of Fiber Cabling, Introduction to Splicing
Day 3
Outside Plant Fiber Cable preparation, termination & testing
Introduction to Basic OTDR Functions
Fiber To the Desk
Use of the OTDR, Power Source and Light Meter Functions
Continuity Testing, Tools and Equipment
Competency Assessment, Results & Review, Conclusion FOA (Fiber Optic Association) Exam
Prerequisites
Participants must be computer literate.
Location
At our technical Training Centre Manila, Philippines OR
We come to your Country Location and deliver the training at your Location or Hotel etc.
Course Duration
3 days or 24 hours + FOA Certification Exam Time
Fiber Optics Technician Course Schedules
Upcoming Schedules
Sorry, No available schedule for this course. Visit us again for updates.