Subscribe to RSS feed
Subnet online competency e-learning system for Offshore Training
Subnet Services Ltd have launched an Online Elearning System tailored to their Range of Courses. This enables Subnet to provide sections of their course for participants to prepere themselves from the comfort of there homes before they arrive and take the complete tests.
Subnet has launched the system with the Imca requirement of a ROV Familiarisation and Introduction module.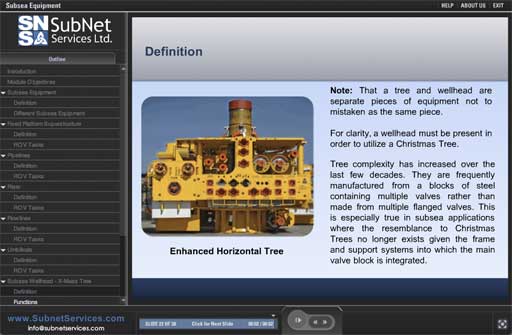 Subnet have created an online portal to allow our students to log in and take the courses and tests at their leisure before they arrive for any of the entry level ROV courses. This we have found is great to prepare the students and make them more familiar with the terminology and the ROV and sub sea industry in general, thus saving time at the training site which allows us to lower the cost to the student.
By NO means is this a replacement for the real courses (which are conducted on-site), it is an aid in prepping the student with information which the courses contain, allowing the student to be familar with the terms and daily operations of ROV's and the Offshore Sub Sea environment and other aspects of the industry.

The selection of courses provided, are listed below by category.
Remotely Operated Vehicle
ROV Electrical High Voltage and Safety
ROV Familiarisation Basic Introductory Module (View Course Detail)
ROV Hydraulics and Safety
ROV Supervisor
Tests are included as you can see from the below image..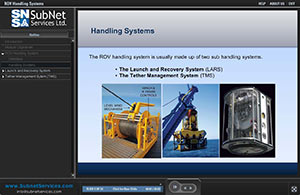 Subnet's sister company has been in the Multimedia business for over 15 years, and we have merged our knowledge to bring our students a more effective and pleasing way to learn.
Links:
Existing Students can visit the site by following this link.
Filed in: ROV