Subscribe to RSS feed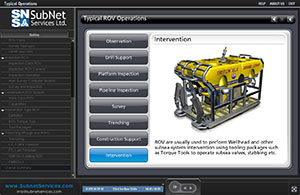 Yes Subnet are offering a FREE course to any previous delegates who have completed a ROV course with us in 2010.
The on line e-learning ROV Familiarisation Basic Introductory Course has been given FREE since september 2010 to all delegates coming on our ROV practical courses.
We always like to help past delegates and therefore are offering this course NOW free immediately to all past 2010 delegates who may have taken our Practical ROV course before the offer. Just email us for your log ins and start taking the course immediately on line.
This course is a good familiarisation to ROV and Sub Sea operations. Try a module now FREE here:-
Read More

There seems to be so much confusion for NEW Personnel trying to enter the ROV Industry as to the accepted entry level requirements, what ROV training is required and what ROV training is available. There are some additional training requirements that are also required before personnel can actually go offshore which may not be clear or given out freely.
Please take some time to study the flowchart.
it is here:
ROV PILOT TECHNICIAN CAREER PATH
Read More